This style has symmetrical front bay windows and tall chimneys.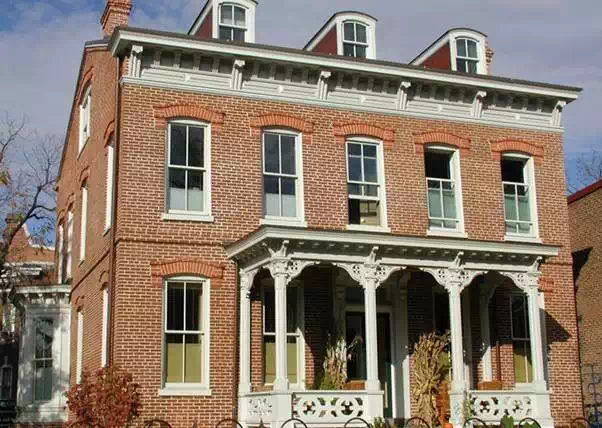 Italianate buildings tend to be characterized more by their ornamentation than by the structure itself," explains Gerald Foster, architect and author of American Houses: A Field Guide to the Architecture of the Home.Most of these homes were constructed in the mid- to late-1800s and can be found nationwide, primarily north of the Mason-Dixon Line. Although loosely modeled after the villas of Italy, the style became so popular in the U.S., Foster says, that it was sometimes referred to as American style.Italianate structures ranged from modest row houses to grand mansions. But what ties them all together is elaborate ornamentation, primarily with respect to cornices, windows, porches and doorways."After a period of picturesque architecture, Italianate reverts back to a tighter symmetrical floor plan of an earlier time," says Foster. "Basically, it's a simple box with a lot of ornamentation."
Key Elements
· Rectangular. Italianates have a plain shape and are usually two or three stories tall.
· Sloping roofs. Italianate houses are easily distinguished by their gently sloping roofs and deep overhanging eaves, which are seemingly supported by a row of decorative brackets, or corbels. Brick, stone or stucco is used to construct the exterior.
· Tall, rounded windows. "The windows are always tall, slim and most often rounded on top," notes Foster. They usually appear in sets of three, evenly spaced from left to right, but also show up as doubled-up pairs. First-floor windows are taller than those on upper levels. Shutters are seldom found on these homes, replaced by thickly hooded, pedimented or framed windows.
· Columned entryway. A single-story column-supported porch protects the double-door entrance.
· Square tower, or cupola. A centrally placed square cupola often just above the roofline. "These cupolas top off the buildings nicely, and they have an Italian feel to them," Foster notes.
Practically Speaking: Hassles and Headaches
Foster points to the style's simple form and durable building materials as the basis for these homes' longevity. Masonry walls, built straight and true, can last for generations. Brick and stone walls will always need periodic pointing to repair cracked mortar joints. Check exterior masonry walls for cracking, which can point to issues with the building's foundation.Italianate structures also tend to have uncomplicated roof lines, reducing the likelihood of leaks. Gently sloping roofs, however, are not ideal for homes in northern climates, where snow is likely to pile up rather than tumble down. Homes in these areas should have their roofs closely examined for structural integrity.Wood, used to construct the ornamental details so common on Italianate homes — such as corbels, window crowns and porch columns — should be examined for moisture or insect damage. Periodic painting should keep solid wood in fine condition.Blocks of well-maintained Italianate-style row houses can still be found throughout New York City, especially in the borough of Brooklyn. These handsome brownstones, with their low stoops and dramatic arched entryways, have long been home to some of the most literary members of society."As home styles began to get more diluted throughout the latter part of the 19th century, well-educated homeowners tended to choose styles with more authenticity," explains Foster. "It takes a certain level of sophistication to understand and appreciate the qualities of an Italianate home."