Floors of a building are as important as the foundation of a building. They have to bear the forces of our everyday activities and at the same time provide an aesthetic appearance to the interior of a building. It is therefore important to choose the right flooring that is versatile and suits our building the best.
There are various types of flooring used in building construction, but the ones discussed in this article are very different from the ones that are commonly used. They are – Linoleum flooring, Rubber flooring, Parquet wooden flooring, False flooring and PVC flooring or Vinyl flooring.
5 Special Types of Flooring used in Building Construction
1. Linoleum Flooring
The linoleum flooring material is a mixture of linseed oil, gums, resins, pigments, wood flour, cork dust and other filling materials. It is available in rolls of widths of 1.8 to 3.6 meters and thickness of about 2mm to 6mm.
Higher thickness of linoleum flooring is used in cases where it is exposed to heavy wear and tear such as floors of shops, offices, hospitals etc. Linoleum tiles are also available and used in buildings. The linoleum flooring is laid over an effective damp proof course.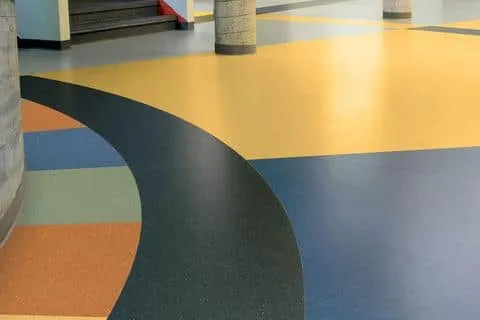 Linoleum Flooring
Linoleum flooring is attractive in appearance, cheap, durable, resilient, comfortable, moderately warm and can be easily cleaned. It reduces noise to a considerable extent and is used for residential buildings, restaurants, railway carriage and public transport buses, hospitals, schools, libraries, offices etc. Linoleum flooring is not recommended for use in basement floors.
2. Rubber Flooring
Rubber flooring material is a mixture of raw rubber, fillers (such as fiber, cork etc.) and pigments. A small percentage of Sulphur is added to accelerate the process of vulcanization.
The rubber flooring material is available either in sheet form or tile form and in a variety of colors. It can be laid over any smooth and dry surface.
This flooring material is elastic, attractive in appearance, noiseless, sanitary, comparatively warm and soft, but it can be easily affected by oil and grease. The rubber flooring is used for bathrooms, hospitals, x-ray rooms etc.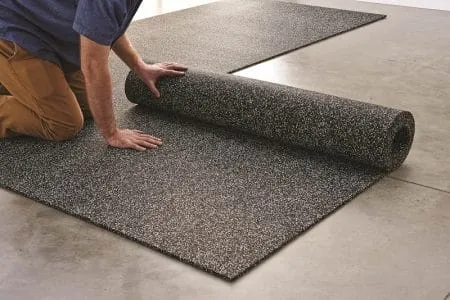 Rubber Flooring
3. False Flooring
False flooring is used in computer rooms for routing of cables underneath the floors. The designed load carrying capacity of these floors can be 1200 kg per square meter of uniformly distributed load and a safe point load of 400 kg at the center of the panel with a maximum deflection of 2mm.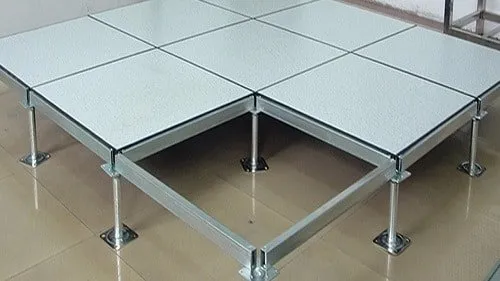 False Flooring
4. PVC Flooring or Vinyl Flooring
PVC or vinyl flooring is a laminated solid resilient, unbreakable and flexible material with a property of high wear resistance and resilience. It is ideal for maintaining clean room condition. The normal sizes of PVC or vinyl flooring available are rolls of 1.5 m width and continuous length up to 20m. It is also available in 1 feet x 1 feet tiles or 2 feet x 2 feet tiles. The thickness of this flooring can range between 1.5mm to 2mm.
The surface of vinyl flooring offers above average resistance to attack from mild and diluted acids, alkalis, soaps and detergents, petrol etc. Concentrated acids and alkalis do not affect the surface provided they are cleaned immediately.
Pure engine oils do not cause a change in the flooring. In the case of dirty oil, however, dirt can diffuse into the flooring and cause discoloration. Any chemical spilled on the surface should be cleaned immediately to minimize any possible damage.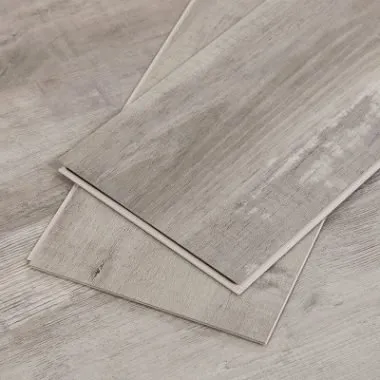 Vinyl Flooring
5. Parquet Wooden Flooring
This flooring is used for auditoriums, dance halls, gymnasiums floors etc. In this flooring wooden blocks are supported on the subfloor and their thickness does not exceed 10mm.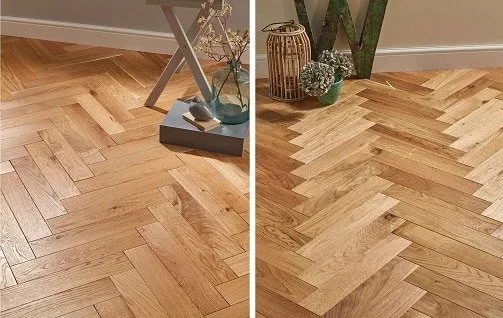 Parquet Wooden Flooring
The blocks are laid in desired patterns and they are fixed by the means of hot glue. They are then nailed with the help of panel pins. The heads of these pins are punched off and putty is filled in the holes. Parquet flooring of plywood is a recent development in flooring.