Furniture and fittings in your home may keep changing with time but your floor covering is something that will remain for a long period of time. Therefore you need to make the right choice. Choosing new flooring for your home is never an easy process. With so many types of flooring available in the market, i.e. stone, wooden, tiles, PVC or Vinyl, etc. it is easy to get confused when deciding the best type of flooring solution for your home. Among them, PVC flooring is popular flooring type nowadays because of its cost-effective nature and sleek appearance.
PVC flooring is popularly known as vinyl flooring. It is more suitable for the cold climate. Vinyl flooring is composed of polyvinyl chloride (PVC), and are made in layers. It is available as tiles, planks, or sheets form. PVC or vinyl flooring comes in many different patterns and styles such as wood, carpet, etc.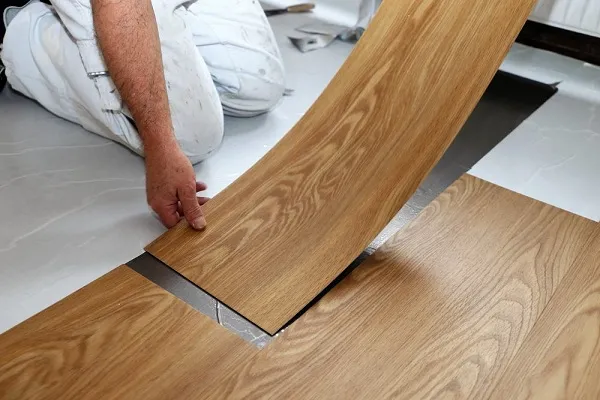 01. Uses
It is suitable for low traffic areas. Vinyl flooring is a perfect choice for areas that are prone to spills and moisture such as kitchens, bathrooms, laundry rooms, etc.
02. Durability
PVC flooring is durable as it is easy to clean and maintain. It has resistant to water and moisture as compared to other types of flooring. However, with the heavy loads, it can be damaged by sharp and heavy objects.
03. Types of Vinyl Flooring or PVC Flooring
(a) PVC or Vinyl Tiles
Vinyl tiles are mostly square and can offer the look of real stone or ceramic floors. If there is any sort of damage during use, one can simply even remove the tiles and replace it with a new one. So when you buy, always keep some in stock for such future needs.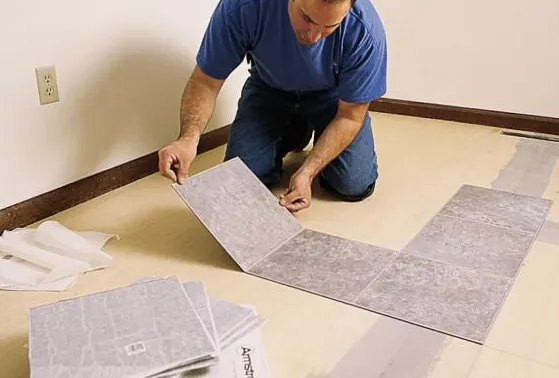 Vinyl Tiles
Courtesy – thisoldhouse
(b) PVC or Vinyl Sheet Flooring
Vinyl sheet flooring is made up of large rolls without using much labour to cut the material, due to this, there is not much of wastage. It is usually laid without having grooves, unlike tiles.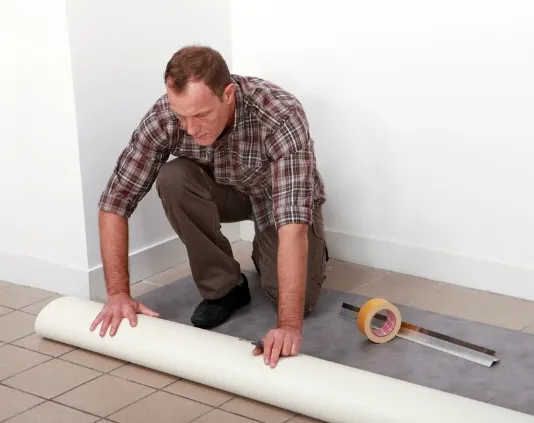 Vinyl Sheet Flooring
Courtesy – factory-direct-flooring
(c) PVC or Vinyl Planks Flooring
Vinyl planks flooring comes in long, narrow strips. It is easy to install and give you the look of hardwood.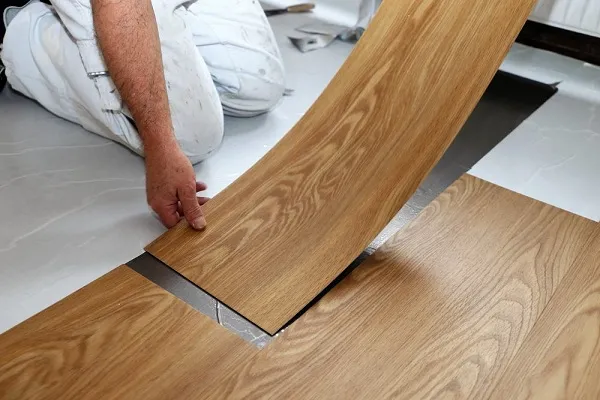 Vinyl Planks Flooring
Courtesy – recommend
04. Easy Installation
Vinyl flooring installation is easy as compared to other types of flooring. It can be installed over concrete, hardwood or plywood. The great thing about PVC or vinyl tiles is their ease of installation. Vinyl tiles are also easy to replace if you decide to remove them in the future. However, it requires accurate measurement for installation.
However, the repairing of dents or damages is difficult to repair. It is preferred when it is not possible to get additional thickness to cut doors.
05. Water Resistant
Vinyl sheet flooring is resistant to water and moisture as compared to any other types of flooring. Basically, there are no joints that allow water to seep in and damage the sub-floor.
06. Easy to Clean
PVC flooring is stain resistant. Any spillages like oil, grease, acids, etc. are easy to clean with damp cloth.
07. Light Weight
Vinyl flooring is light weight as compared to other types of flooring and hence it is easy to install.
08. Maintenance
It requires very little maintenance. You just need to sweep regularly and use a damp mop to keep your floors sparkling.
09. Fading
Colours can fade with exposure to too much direct sunlight and floors can also get damaged by extreme temperatures.
10. Surface Irregularities
Improper preparation of the subfloor leads to uneven installation of vinyl flooring. This allows moisture to penetrate causing it to lift and warp. Due to shiny appearance, any damage to PVC flooring will get easily reflected. Therefore a perfectly levelled, smooth subfloor is a must for installation of vinyl flooring.
11. Scratch Resistant
Vinyl flooring is soft, and hence it is prone to dents and scratches which often leave a bad impact on the surface of the vinyl floor.
12. Life
Please, however, note that vinyl flooring has a limited life, say 10 to 15 years.
13. Health Concern
Vinyl flooring emits high Volatile Organic Compound (VOC) which is harmful for human health.
14. Size
· Vinyl Sheet Flooring: The standard width of vinyl flooring sheets or rolls in continuous lengths shall be 1000 mm to 2000 mm.
· Vinyl Tiles: The tiles shall be 250 mm, 300 mm, 600 mm and 900 mm square.
· Vinyl Planks Flooring: 100 to 200 mm width and 900 to 1200mm length
Thickness: The standard thickness of vinyl flooring shall be 1.5mm to 3.0 mm
15. Cost
The major advantage of vinyl flooring is that they are inexpensive than other type of flooring.
Flooring is a big part of your home so be sure to take time and consider what you need from your floor and how PVC flooring or vinyl flooring can meet these requirements.