This is a traditional flooring technique found particularly practiced in south India. It involves the use of wood and " aachikal " ( a locally termed material which is a small brick )and lime plaster. Commonly used for small spans. Wooden beams are used to cover the span. Over this wooden beams are laid at intervals of less than 45cms from each other. The gaps between is filled with bricks on edge with lime plaster. Upon this " aactchikal brick "is laid on edge across in diagonal fashion plastered with lime.
Materials
· 'AACHIKAAL' Brick
· Lime Plaster
· Wooden rafters
· Brick Jelly
· lime
· 'Kaduka' Fruit/Jaggery etc
Details and experiences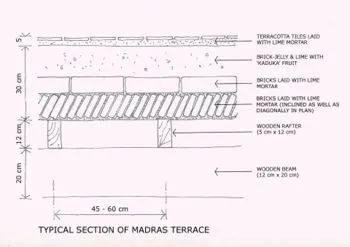 Drawing showing the method in which the " aachikal " is laid. Wooden rafters are made to span across to cover the area and then " aachikal " is laid out diagonally over the wooden rafters with lime plaster.